The combined liquid metal flowmeter consists of three different devices for measuring liquid metal flow rate. The flowmeter of universal configuration may include one, two, or three devices, which ensures the highest measurement reliability.
The first device is a conduction flowmeter. The conduction flowmeter consists of a source of a magnetic field that is perpendicular to the liquid metal flow and a series of diametrically opposite contacts for measuring the electromotive force, which occurs when the flow of a conducting medium interacts with the magnetic field. The use of a few pairs of contacts makes it possible to decrease the effect of asymmetries observed in the hydrodynamic velocity profile on the device characteristics.
The second device is an induction flowmeter. The operating principle of this device is based on the magnetic field drift due to the flow of a conducting medium. An alternating magnetic field aligned with the flow direction is induced by a generating coil. Breaking in the field symmetry is detected by means of measuring coils.
The third device is a cross-correlation velocity sensor that determines hydrodynamic characteristics by analyzing the transfer of temperature pulsations. Owing to its design, the flowmeter is able to generate temperature pulsations of sufficient intensity.
Two liquid sodium flowmeters installed in the liquid sodium loop (ICMM) demonstrated stable operation and high reliability at temperature up to 350 Celsius degree.
The flowmeters are calibrated in a special section of the liquid sodium loop, where the liquid sodium flow is generated. The flow rate is measured by means of the external system.
The Laboratory is ready for cooperation with all those who are concerned with development of new flowmeter configurations, improvement of flowmeter models and calibration of existing flowmeters.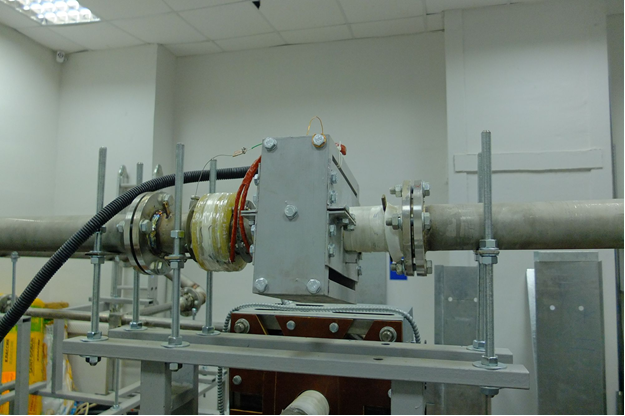 Liquid sodium flowmeter integrated into the sodium loop LSL (ICMM UB RAS)
Contact information:
Peter Frick, This email address is being protected from spambots. You need JavaScript enabled to view it., phone +7 (342) 2378322
Ruslan Khalilov, This email address is being protected from spambots. You need JavaScript enabled to view it., phone +7 (342) 2378381, +7 9128834521
Ilya Kolesnichenko, This email address is being protected from spambots. You need JavaScript enabled to view it., phone +7 (342) 2378381, +7 9824524625