The electromagnetic travelling field pump is designed to provide efficient non-contact pumping of nonferrous liquid metal. The pump has no moving parts and can therefore be installed either horizontally or vertically. The coaxial channel of the pump is made of stainless steel and it can be replaced with a new one without complete disassembly of the pump.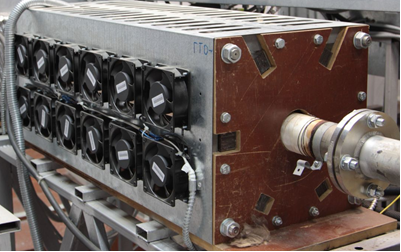 The pump design can be adapted to suit the needs of a particular production site. For instance, the pump model can be made more resistant to harsh conditions of metallurgy production, when it is necessary to transfer a liquid metal, in particular magnesium, at high temperatures. To meet the requirements of laboratory or testing sites, where liquid metals, e.g. sodium or mercury, are investigated at relatively low temperatures, a simplified version of the pump can be designed.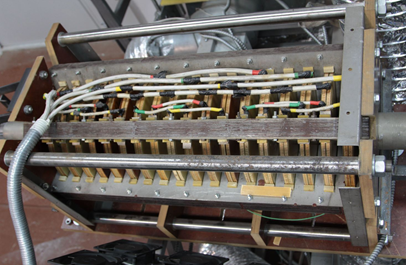 The pumps developed previously by the laboratory are installed in the large sodium loop (LSL), which ensures prompt investigation of the operating parameters of this pump model.
The pump is powered from a three-phase source with power frequency control, which makes it possible to gradually change the pump capacity. In order to meet the requirements of a specific problem, a fixed-capacity pump can be designed. In this case the pump is connected directly to the three-phase power supply circuit without any additional voltage source.
A forced cooling system with automatic temperature control can be installed as the need arises. Performance testing of the pump can be conducted on the sodium loop.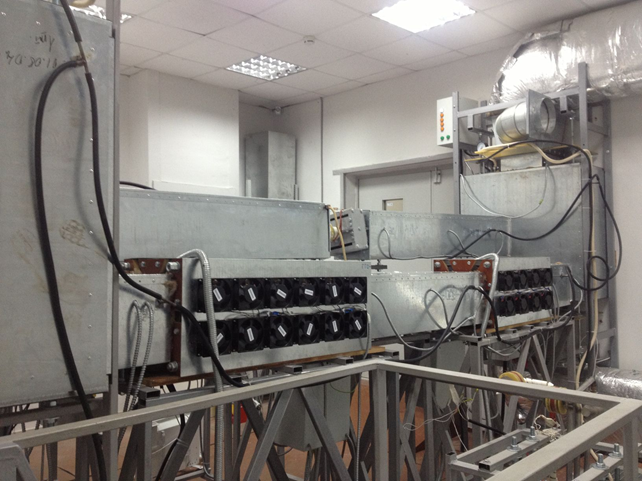 Two electromagnetic pumps installed in the sodium loop LSL (ICMM UB RAS)
Contact information:
Peter Frick, This email address is being protected from spambots. You need JavaScript enabled to view it., phone +7 (342) 2378322
Ruslan Khalilov, This email address is being protected from spambots. You need JavaScript enabled to view it., phone +7 (342) 2378381, +7 9128834521
Ilya Kolesnichenko, This email address is being protected from spambots. You need JavaScript enabled to view it., phone +7 (342) 2378381, +7 9824524625